Porsche 911 Car Designer Sketch Fish Eye View
Here's the Porsche 911 Car Designer Sketch Fish Eye View!  Last week I finished up a front 3/4 view of the Porsche and this time I decided to change it up a little and draw a more wide angle view of the 911.  To be honest, the fish-eye view always gives me trouble and it's one of the views that I should practice more often.    However,  fish-eye views are awesome because they add drama to your sketch and the appearance that the car is speeding right off the page.  You can have a lot of fun trying to setup different views and try to draw your cars in several different angles.
Remember to always tackle the most difficult views and practice drawing them repeatedly.  If you have trouble identifying your views, then go back to drawing boxes to establish your understanding of perspective.  Hope you enjoy this vid and see you next week.
Happy Drawing!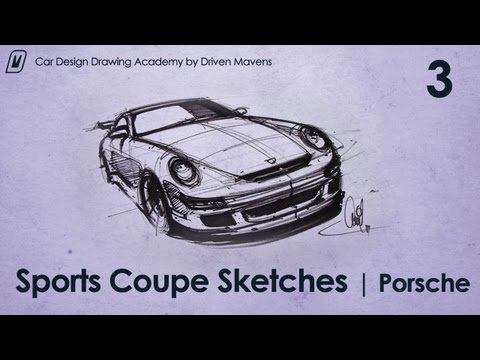 If you are looking for a beginners course, our popular introduction to transportation design will cover excellent fundamentals and basics in analog and digital drawing formats.  It covers a lot of sketching fundamentals and basics.  Plus! It supports this blog for free content
 Check out the site here:
Join DM for FREE Video, Post and Podcast Updates!