Drawing Cars on Newsprint Paper continues with another  sketch session.  If you didn't catch the last video, check out the previous newsprint sketch video.   We'll continue this demo with an indigo blue art stix.  Art stix are of the same grade as prismacolor pencils.  Gives you an excellent value range and allows you shade in large areas with the broad side of the art stix.
The trick with art stix is to continuously rotate the art stix to maintain a sharp point.  You'll need to use the broad side of the art stix to shade large areas.  It can get a little tricky because you must still be mindful of line weight just as you would be with a pencil.
Getting such practice exercises in larger format will be crucial to developing your drawing skills.
So sit back and watch the video.  If there is something in particular you would like me to sketch, let me know.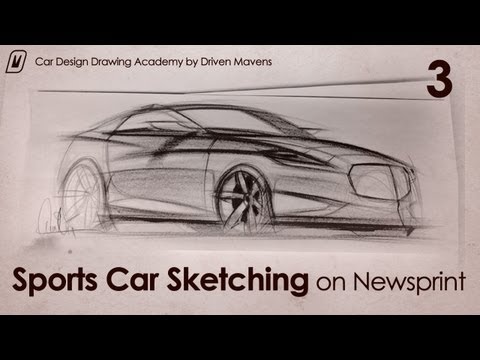 If you are looking for a beginners course, our popular introduction to transportation design will cover excellent fundamentals and basics in analog and digital drawing formats.  Plus! It supports this blog for free content
 Check out the site here:
Join DM for FREE Video, Post and Podcast Updates!