Now that we have drawn a ton of cars so far, I thought I introduce "Tall Cars" or also better known as Crossover vehicles.  Believe it or not, crossover vehicles use a wheelbase or vehicle architecture similar to that of cars.  In fact, most crossover vehicles use a car platform with a uni-body construction as opposed to Body-on-frame.
Why is this done? Well you uni-body construction allows for "car" handling characteristics  and since the uni-body gives the structure more rigidity, it is able to handle corners better like a car.  Also…it allows for reduced mass which is always good.  So the basic principle here is to take the car platform and raise it higher to that of traditional SUVs.  This gives the customer car handling, but a higher ride height for visibility, better fuel economy, space and luggage capacity,  and a fairly nimble handling car.  A great compromise to the SUV.
Check out the video as I sketch the tall car….and yes…I should have added another door.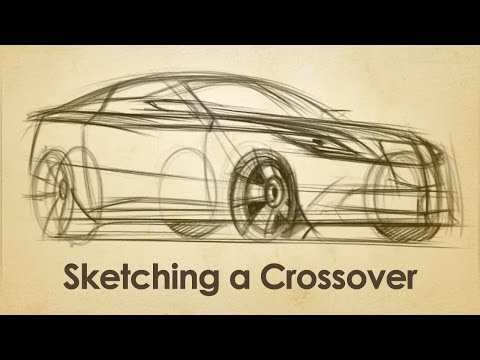 If you are looking for a beginners course, our popular introduction to transportation design will cover excellent fundamentals and basics in analog and digital drawing formats.  Plus! It supports this blog for free content
 Check out the site here: howtodrawcarsnow.com
Enjoy this video? Join our newsletter for free updates and more tutorials every week!