This video tutorial shows you how to sketch a Cadillac.  It's a known fact that GM got back into gear after losing a lot of market share in the luxury vehicle department back in the late 90′s.  They really needed to find a way to gain back the market share and bring some excitement into the brand.  Enter in the 2002 Cadillac CTS!
GM did an outstanding job of also widening their demographic by creating a more luxurious and youthful looking sports sedan.  All of a sudden…it was cool to be somewhat middle aged or a little older.
Anyway..enough rambling and start watching the vid
Again, practice is key.  As you watch the video, bear in mind the following:
1.  Sketch setup
2.  Proportions
3.  Sketch Technique
4.  Line Weight
The principles above will help you to build a very "dynamic" look to your sketches with life and movement. Just remember that it is always about learning and building your current knowledge base.
Tools used:
Tablet PC
Software – Painter 12
Wacom Pen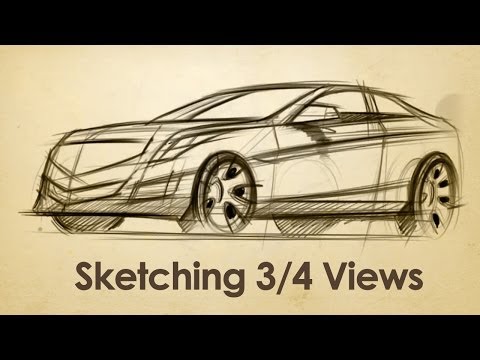 The above tools were used to "simulate" traditional drawing methods.  Please note that if you ARE a beginner, it is key to start creating your sketches with paper, markers, and pencils.  It is THE best way to charting your path to be a sketching pro!
If you are looking for a beginners course, our popular introduction to transportation design will cover excellent fundamentals and basics in analog and digital drawing formats.  Plus! It supports this blog for free content
 Check out the site here:
Join DM for FREE Video, Post and Podcast Updates!